A fire alarm system helps you extinguish the fire before it can take over and damage the whole building to ashes.
Fire Alarm Systems are present in every building that alert people about a possible cause of the fire.
It consists of smoke, heat, and fire sensors that sense and trigger the system when one of them reaches a certain level.
The Fire Alarm system has a combination of different units to warn early about a possible fire, smoke, or carbon monoxide in an area.
Fire alarms are usually set in the systems to provide zonal coverage for residences and commercial buildings.
Key components of a system
There are basically five essential components of a system. These consist of: Fire alarm initiating devices, Fire notification devices, Fire alarm control panel, primary power supply, and backup power supply.
The primary function of a fire alarm initiating device is to the system when a fire occurs.
These are two types of fire alarm initiating devices, i.e., Manual and Automatic.
Manual device pull station, break glass station, or button that needs to be manually activated by someone in the building when they identify a power.
Automatic initiating devices
Automatic initiating devices include heat, flow, and smoke detectors. When heat, flow or smoke is detected, these devices send a signal to the central control panel that activates the system.
Fire Notification Device
The 2nd essential component in the system is a Fire Notification Device. The role of a fire notification device is to notify the occupants of the building when a fire is detected. Some fire alarm notification devices include; bells, horns, chimes, and strobes.
Fire Alarm Control Panel
The 3rd essential component is the Fire Alarm Control Panel. The status of the system is displayed on the control panel, which allows to control it manually.
Power Supply
The 4th component is the primary power supply which is supplied by the main power supply of your building which is 220V.
In case of electricity shut down or power failure, you need to have a backup power supply which will be a 12-volt battery connected to your alarm system.
This will be your final essential component for your complete alarm system. The above components listed were the main components of an alarm system.
There are several other components that are also a part of the alarm system.
Sprinkler System
A Sprinkler system is used to extinguish is a fire detected. The sprinkler system is activated by a fire detection system. The exit lighting system is also a part of the alarm system. When a fire occurs, having lights to show the direction of the exit is important.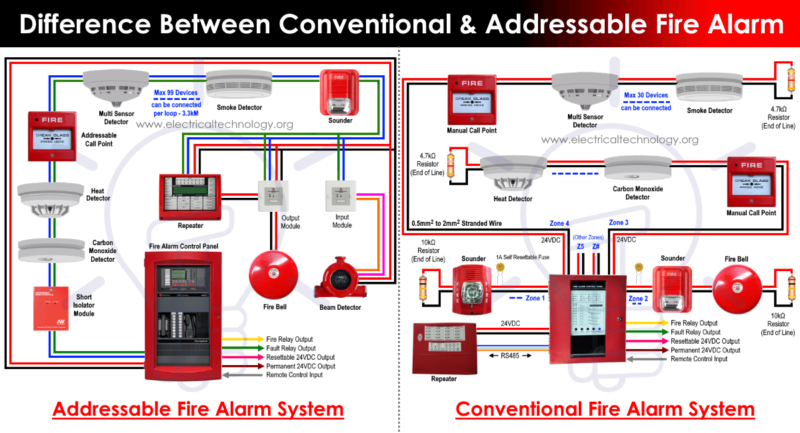 Alarm Monitoring System
The alarm monitoring system alerts the authorities when the alarm system is activated. It can be a loud siren bell or a voice command giving verbal commands and safety precautions.
Remote controls and display panels are of critical importance to buildings that can be helpful. These devices allow you to check, activate, and deactivate alarms from remote parts of the building.
Working of a System
The working of a Fire Alarm System starts with the detection of heat, smoke, and fire by sensors. Basically, there are two types of smoke detectors.
The optical smoke detectors detect by using infrared LED, and the ionization detector detects smoke particles by reducing the ionization of air and triggers the alarm.
A fire alarm is a network of fire detection and sounding devices.
Types of Alarm Systems
There are four types of fire alarm systems. They are Wireless Alarm Systems, Wired Alarm Systems, Monitored Alarm Systems, and Unmonitored Alarm Systems.
Wireless Alarm Systems In wireless alarm systems, the sensors of the wireless alarm system communicate with the control panel using a secure radiofrequency.
A system is a trip while the alarm is armed, it transmits a signal that's picked by the control panel and the alarm is triggered. All sensors and control panels must be within range of each other to communicate properly.
Wired Alarm Systems
The truth is that wired alarm systems have the same accessibility as wireless alarm systems.
Monitored Alarm Systems
A monitored alarm system alerts both the homeowner and monitoring center operator when an alarm is triggered.
A monitored alarm system ensures that when you are not able to get your phone to check for alarm alerts, your property is still protected.
Instead of sending an alert to emergency rescue authorities, unmonitored systems simply trigger audible and visual signals to alert someone in the immediate vicinity.
Some systems store recorded video locally on an SD card or an SSD, while others offer cloud storage.
The first one is the component.
A security system that has fewer components than others is the best. A keypad, motion sensors, door sensors, cameras are all you need.
Compatibility is the next thing you need to check whether you can get notifications and alerts on your phone. Upgradation is another factor in the list you need to check when choosing the right security system.
Conclusion
This article how fire extinguishes quickly and promptly using a Fire Alarm System before it can damage and erase all buildings to ashes.
Five essential components of the fire alarm were listed. Finally, a type of alarm system and a touch of smart home security system were introduced.
Also Check : https://www.crawlyourlink.com/category/technology/