If your idea of a perfect Irish vacation involves medieval castles and a charming cityscape that transports you back to the Middle Ages, then Kilkenny deserves a spot in your itinerary. The well-preserved medieval city is known for its rich history and architectural heritage that is best discovered during daylight. However, that doesn't mean the city sleeps after sunset.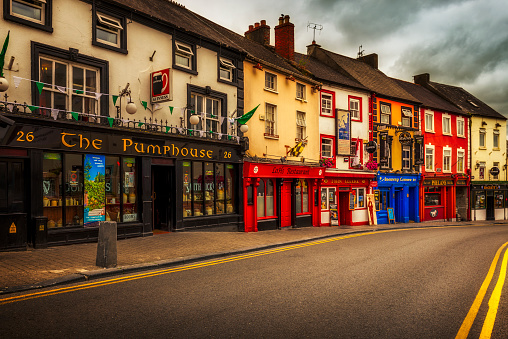 What happens to Kilkenny after the flock of day-trippers go home after sundown? It offers lively nightlife and cultural experiences! Whether you're planning to party with upbeat Irish music or you're just looking for a laidback evening with a cold pint of beer in hand, you'll have the best nightlife experience in Kilkenny.
So if you don't feel like going to your Kilkenny hotel after 5 pm, here are 7 things you can do to make the most out of the medieval city's nightlife.
1. Go sightseeing without the crowd
When the sky turns dark and the lights from the buildings and lamp posts illuminate the city, you'll appreciate Kilkenny's breathtaking charm.
Simply wander around the cobblestone streets and soak up the calm vibe. See how the old-fashioned buildings are beautifully reflected on the calm waters of River Nore. Pass by Kilkenny Castle and see its warm glow. Go street-hopping and adore the quirky storefronts, pubs, restaurants, and cafes. While most of the shops are closed after 6, you'll get to enjoy the serenity of the streets that were once busy.
2. Stay a little late for the music (Traditional Irish Music or Modern)
"Do all Irishmen sing?", asks Holly in the 2007 film "P.S. I Love You". While not all Irish men and women sing, it's no secret that Irish people love music. It runs in their blood. You can catch a few talented souls when you visit pubs and bars that host live music sessions.
A handful of dining places let you enjoy great food and drink with a side of entertainment. These include (but are not limited to):
Kytelers Inn
Andrew Ryan's Pub
Brewery Corner
Egan's Bar and B&B Accommodation
JB's Bar + Guest Accommodation
Breathnachs Steak & Ale House
Cleere's Bar and Theatre
The Field Bar & Restaurant
Manion's Country Pub
3. Dance the night away
Do you like clubbing more than chill trad music? Kilkenny have a few lively hangout spots for clubbing and loud music:
Langtons
Matt The Millers Bar & Restaurant
The Pumphouse
Coda
Club 51
Biddy Earlys
4. Visit Kyteler's Inn, a haunted pub
When you pass by St Kieran's street, you'll see a rustic medieval tavern covered in stone bricks. It's the Kyteler's Inn, an old pub that's traditionally associated with Dame Alice Kyteler, Ireland's first condemned witch. Some parts of the building are dated back to the 13th or 14th century, and the building has been housed as an inn since 1639.
Whether you're fascinated by stories about hauntings and sorcery or you just want to enjoy a pint of local beer with a juicy beef burger, Kyteler's is a must-visit place. It hosts traditional Irish music sessions too.
5. Plenty of pubs and restaurants for great food and drink
Looking for delicious grub with a cold, local brew on the side? Kilkenny won't disappoint. There's a plethora of restaurants and pubs dotted all around the city. You may also come across beer gardens and other lovely al fresco dining spots too, which are safer options during the pandemic.
Whether you favor Irish and British classics (like Full Irish Breakfast or Fish and Chips) or comfort food like burgers and steaks, you can find a place for your cravings. Some of these cosy spots are charming cafes by day, then transform into a lively hangout and party spot during the evening.
6. Drink Kilkenny craft beer and local spirits
Forget Guinness! Kilkenny has its own signature brews. Some of the best local craft beers include Smithwick's, an Irish red ale-style beer, and Kilkenny beer, a nitrogenated Irish cream brewed in St. Francis Abbey Brewery. As for Irish Whiskey and other signature spirits, we have Ballykeefe, Walsh, and Highbank.
You may sample the flavours of the finest when you visit a pub, bar, restaurant, or even an actual brewery or distillery. Most dining establishments operate from 9:30 AM to 12:00 AM, so feel free to linger and socialize until you're not drunk enough to go home to your hotel in Kilkenny.
7. Listen to tales of folklore
Who says historical tours are only held during daylight? Head to The Hole in the Wall, a cosy pub housed in the oldest surviving townhouse in Ireland.
Locally known as the "storytelling pub", you'll be entertained by wonderful Irish tales and folklore while sipping a nice pint of beer. 
You can also find other traditional pubs where you can experience a bit of history, mixed with an old-world vibe. These include The Field and Kyteler's Inn.
Disclaimer: Times have changed, and are continuously changing. Due to the ongoing pandemic, make sure to research your location for its updated business hours and offers to avoid inconveniences.